I was in a quandary.
It was 10 years ago today. August 2, 1996.
I had established this diary to trace my death.
But everything had changed. It had all happened so quickly. The main thing was this: I wasn't going to die. So, what now? There was no template for this. Medically, people didn't get a death diagnosis and then recover, not in huge numbers as was suddenly happening in the AIDS community.
And what about my website? Blogs hadn't been invented yet. No one had even thought up the term "blog" -- and may the person who thought it up die a thousand deaths, btw. Sure, there were some diarists out there, but it was all new territory.
It was the last night of our workshop. We had sold out almost every performance. But lots of shows have workshops. Where would we go from here?
The last performance, according to my entry, I felt "giddy."
Sold out house filled with music industry celebrities. All of us at rehearsal singing Beatle songs and acting totally crazy together.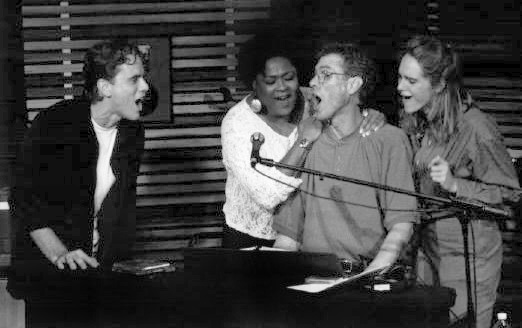 And at the end of the night, another huge surprise. Kim and Ronda had flown my parents in from Louisiana to sit in the audience. They came out and took a bow with us.
I got to the end of writing up the diary entry and, out of nowhere, I pronounced it, "END OF BOOK ONE."
What was next?
I didn't know. No one knew.
I did know one thing, though. I would be there for it.
I would BE there for it.