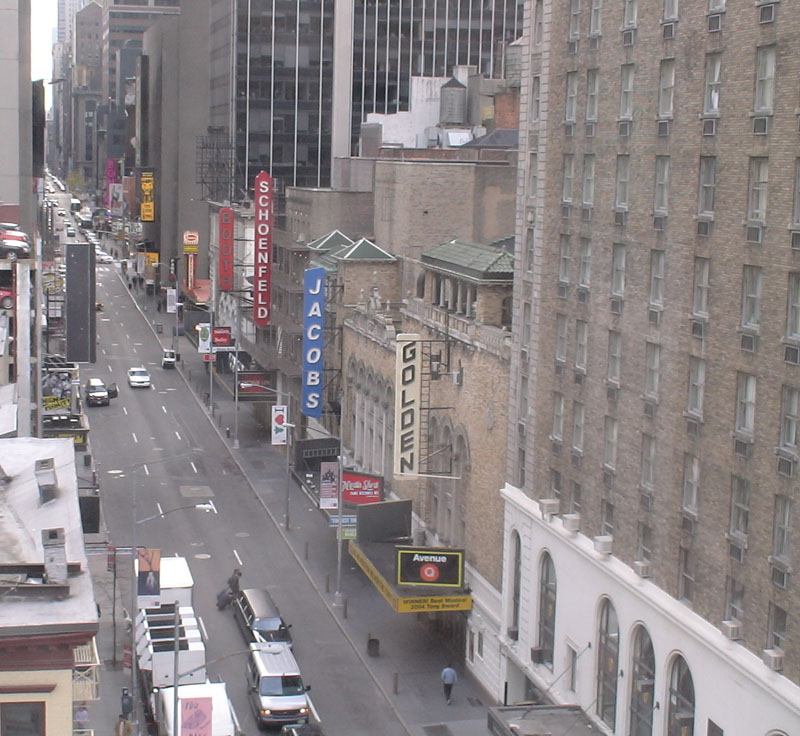 We have made it to New York.
The cats knew something was up. Thurber was all but melted on Jim all day long. Steinbeck kept noodging my elbow and pushing his big face into my lap as I sat on the couch working. They always know, don't they? We had a long, but smooth flight into JFK and are currently staying at our friend's apartment overlooking Broadway. (See pic above).
Sunday night, I joined my friend Mark Janas, a musical director, for his weekly "salon" at the Rouge Wine Bar down in the Village on Bank and Washington. It's a gathering of singers, composers, lyricists and actors who hang out and sing songs for each other. Last night, the place was packed. (Jim was still tired from the trip, so he stayed in).
Mark invited me to sing and play a few songs. Never one to turn down an opportunity like that, I sang "Why," the new song "Great Big Hall," and then "The Closet," which got big laughs. Later, I sang "How Do You Fall Back In Love?" with Mark behind me on the banquette -- it's a very cozy place -- singing along doing the back-up. We had so much fun!
Then, as Jim says in The Big Voice, I made an announcement that made the room spin. I explained to everyone how I was one of the first bloggers on the Net, how "The Last Session" was one of, if not the very first, musical to have its own website, and that, in the tradition of pushing the boundaries of how to use the Internet, I have uploaded
the entire score of "The Big Voice" to the Internet as a free download
.
Why? Because, I said, "I WANT YOU ALL SINGING MY SONGS!"
There was a beautiful singer there named Susan Derry who had an angelic voice. Another singer was Steve Wilde (or is it Wild?) who I had seen before in a musical. Then there was this tall handsome man named
Devin Richards
, who blew us all away with his baritone bluesy voice. Also, a composer named Nick who had some of the most witty songs. He had Steve Wilde sing a song about the "Director's Cut version of our relationship" or something like that. Brilliant. (I'll get all these names and update them later).
Next time I do this, remind me to get more business cards!
Also yesterday, we went to check out the venue for Big Voice. THE STAGE LOOKS AMAZING. The lighting grid which surrounds us looks like a rock concert. Now I'm REALLY happy. The other thing I love is that the seats they've brought in are WIDE and COMFORTABLE. So many of the Broadway houses have these tiny seats with no leg room. Our folks are gonna be comfy!
Oh, man. This is just getting so real! I'll have more pictures. Stupidly, I left some of my cords back home, but James is bringing them. So I'll be able to upload video and snapshots in a couple of days.
Wish you were here!