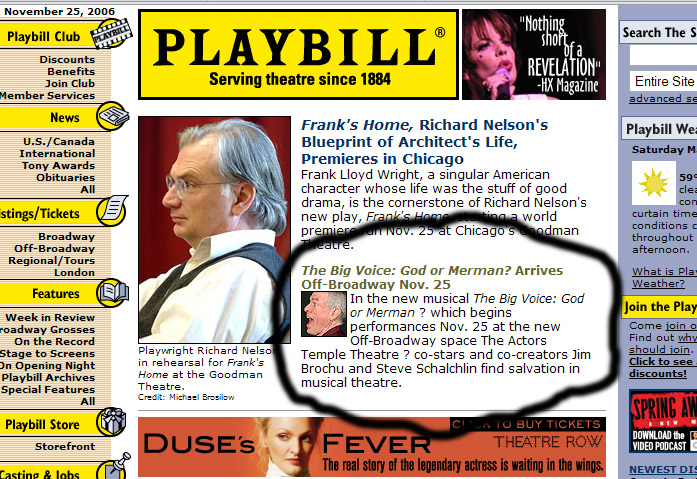 We made the front page of Playbill.com again today. Yay! And last night we had our first preview. I can proudly say that I was absolutely relaxed and comfortable from the first moment. Even Jana, our production supervisor, who knows us inside and out said she had never seen me look more comfortable and relaxed on a stage before. We're still working out some spacing issues as we get used to where the lights are. A couple of times I found myself scooching one way or the other finding the hot spot for each position.
The funniest thing, though, was that, at one point, I heard some very strange, regular noise coming from the back of the room. I thought maybe some equipment malfunction or something. But it was kind of loud and it almost threw me off. After the show, I found out it was our director, Anthony, ASLEEP AND SNORING! LOL. Poor guy has been taking a long train in and out of the City. He's staying with family and, given the fact that we were doing the show at 10:30pm, he just was exhausted. Still, I'm never going to let him forget it. Our own director snoring through our show!
The audience, however, didn't. They were really responsive. Gave us an immediate standing ovation. And, honestly, standing ovations are not rare these days, so it's possible they were just being kind, but afterwards, we got lots of hugs and the buzz was wonderful. So, we'll see.
I also want to extend my appreciation to
"Joe.My.God."
Joe has one of the most popular blogs on the Internet and he has been helping us promote Big Voice. We invited his readers to the dress rehearsal last night and we met a couple he had with him. Two guys: One a former Catholic priest who's an Ethel Queen and the other? His Baptist boyfriend! They were GREAT GUYS. Warm and sweet. They said they felt like we were singing their story. So, thanks, Joe, for the plug.
As I might have said before, this production is being financed mostly by friends. The producers are friends. It's a tiny production with not a lot of money, so we're counting on word of mouth, mostly, for publicity. They told us a lot of the "big" producers didn't want to invest in a show featuring actors no one ever heard of and a subject no one could describe in five words or less. It's a special "sell," they told us, and were only interested if we could get big names in the leads.
But our producers, Paul and Murphy and Ed, really wanted the show to be exactly what it is: Jim and Steve telling their story. It's why we found the Actors' Temple, why we're doing it the way we're doing it. This is the show they wanted to produce. So, it's kind of a homemade production. Except, of course, for these brilliant designers who have invested their amazing talents to make it look like a million bucks. Everyone is pitching in and making it almost a "do it yourself" production. For Jim and me, to have people so dedicated to making our show come to life, I hope they know how much it means to us. I don't have the words to express how my heart is filled with love for them.
Trouble! Already, I've stirred up trouble trying to help promote the show. Over on the
All That Chat message board
, I posted
a notice offering a free download
of the entire score. Some guy
responded sarcastically
to it. I then
posted again explaining
how I had been one of the originals on All That Chat, and after singing "How Do You Fall Back In Love?" at Mark Janas' salon last week, several of the singers had asked for the sheet music, so I thought it might a good promotional device to offer it to everyone. He just said, "Spare me!" and responded again with
a very nasty message
-- totally ripping me to shreds.
So, it's an ugly world out there! But when you put yourself out there, you can expect to get blasted. It's cool, though. Everyone has a right to their opinion.
Today, we do a matinee and an evening performance. Then two more shows on Sunday. That night, we will head back down to the Village and both of us will sing for Mark's salon. It's a great evening. Every Sunday night at the Rouge Wine Bar downstairs at 99 Bank St. If you're in NY, join us!
UPDATE: I just saw another wonderful entry from a blogger named farmboyz. He wrote
a beautiful review of the show
.