Just before we went into the theatre for our last preview, a gentleman stopped me just outside the door. "I wanted to tell you," he said, "how much I enjoyed your play. I saw it the other night and I'm back to see it again."
I was surprised. We haven't even opened yet, officially. We've done barely a week's worth of shows and already we're getting repeat customers?
I asked him his name.
"Bill," he responded. "I came back because I have two young friends. They've only been together for about four months, but one of them was just diagnosed with cancer and I thought they should see your show, that they would relate to what's up there on the stage."
I got a little catch in my throat. It just all felt very real, suddenly. It changed my whole performance last night, keeping these guys in mind. They said they would write me emails. I hope they do.
I was voted, by Jim and John Atherlay, our stage manager, as the Equity Deputy for this production. That means I can "write" Jim up anytime I want. All I know is he better stay in line. I think they do this to all the new actors as a rite of passage. ("Let's make the new guy do it!") Apparently, I'm going to be filling out forms or something, reporting on the show if anyone steps out of line or tries to change the dialogue, music or staging. That's right. Jim better stay on his toes.
As we sat there, I was poking fun at him because he likes to peek through to curtains before the show to look at the house. But we don't really have a backstage area since the synagogue wasn't really built as a theatre. So, with me standing on one side of the theatre behind the purple swag, I'm actually in front of the black curtain. When I look across, I can see him pushing the curtain out. I kept telling him, "I'm gonna write you up!"
So, we did two shows on Tuesday. They went really well. The audience was responsive. Afterwards, I was so tired getting on the subway back to the apartment, I could barely stand.
When we got into the theatre on Wednesday for our final preview, there was a piece of paper on my table with a HUGE laundry list of "notes" from Anthony. I didn't even want to read it. I've been doing this show for 3 1/2 years. Notes?? I'd even been proud of myself for finding some new things -- making "Joey" more kid-like, being more dramatic in our fight scene, plus other little things.
Anthony's notes? Stop making Joey look retarded. Stop being so dramatic. Don't smile when you sing "How Do You Fall." On and on it went as he took out every single thing I thought I was doing so well. No way! I loved what I was doing! He changed a "cross" I made in one scene and told me to not do something else in another. Forget it! I'm gonna do the show my way.
I sat there almost fuming, reading the list over and over again. Then, when I went out on stage, I followed every single bit of direction he gave me to the letter. Took out all my "improvements." Stopped being "cute" in one scene. Stopped being "dramatic" in another. Stopped mugging in another.
And you know what really pissed me off? He was right. About everything. The audience last night was OVER THE TOP, laughing hysterically at every moment. Screaming and stopping the show at the biggest laughs. The songs got extended applause. And these were not our friends out there! We don't have that many friends in New York since we live in L.A. It was, Jim and I agreed, the best performance of the show we've ever done. So, I've decided to frame that list of directions and leave it up on my dressing room mirror.
Anthony came up to me afterwards and was so sweet. "You did it! You did everything!"
"Well, naturally," I told him. "I'm a professional actor!"
(And Jim rolls his eyes at me.) LOL
So, there ya go. Funny how it works when you put your ego in a box and just follow orders. That's why we have a director in the first place. To watch out front and make sure you don't make a fool of yourself.
After the show, I met the two guys Bill brought. I didn't pry into their lives or anything, but I did give them big hugs. My heart was breaking for them, but they had big smiles on their faces and I just hope the message in our show brought them some strength for the journey.
It was a perfect night outside, by the way. It was only a little cold. The air smelled clean -- and filled with that magnificently aromatic aroma of roasted chestnuts coming from cart vendors all along Times Square.
We crossed over and walked to Rockefeller Square to see the big, new Christmas tree in all its glory. And, yeah, it's beautiful.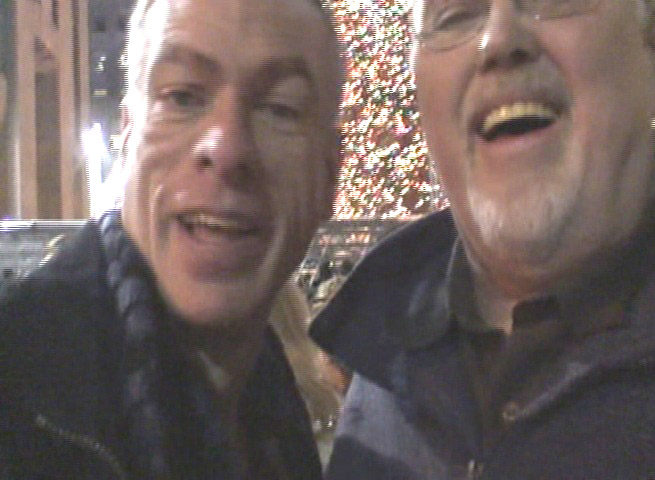 I held Jimmy especially close. It felt so good to be here with him, just the two of us and a thousand other people circling the tree. There were so many lovers. New York at Christmas time really can't be matched. Everyone was smiling and laughing, taking photos of each other. Strangers were joking with other strangers. Out in front of the tree, we ran into that John guy from The Daily Show, the English reporter with the big nose, doing some kind of bit. Jim said something to him that made him laugh.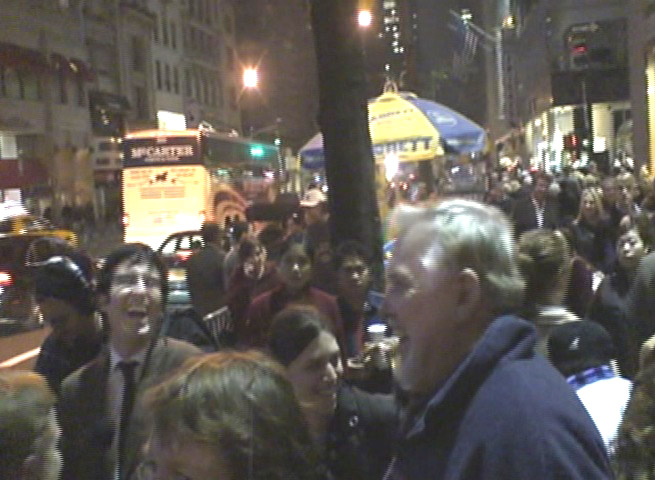 Tomorrow night is the official opening night, and the pressure is off. We can truly just relax and enjoy ourselves onstage. Afterwards, we go to Sardi's for an opening night get together. Very informal. Just friends and family. And whoever else shows up.
And then the reviews will begin to roll in. You know, this is where I take a big breath and just live in the moment. If nothing else happens, we have had this night, something very few people are privileged to experience.