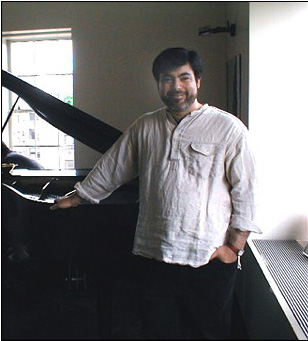 One of the things I love most about being in New York is that they take songwriting (for singers) very seriously here and the cabaret scene is vibrant (as opposed to L.A. where there simply is no "scene" at all). One of my goals in being here is to hook up with singers and writers.
I want to meet singers so I can cajole them into doing my material. I want to meet great writers so that I can cajole them into collaborating with me. I learned a long time ago at National Academy of Songwriter that, unlike in other professions, you don't really have to compete with other writers. If they're better than you, you just turn them into collaborators and team up!
One of the songwriters I mentioned in my earlier blog who I met down at Mark Janas' singer and songwriter salon was a guy named "Nick." His name is
Nicholas Levin
(pictured up/left). He's a really bashful guy who sat right near the piano. And when I was playing and singing my own songs, he was intensely watching my hands and listening to every word. He had Steven Wilde sing a song of his called "Final Cut" which totally blew me and my doodly songs right out of the water.
Hey, Nick! I'm comin' after ya!